COVID-19 Ag - Antigénový test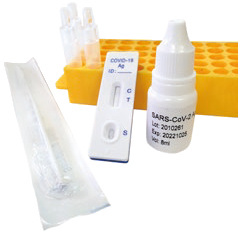 Sars-Cov-2 antigen rapid test
The new coronavirus (SARS-CoV-2) belongs to the genus β. COVID-19 is an acute respiratory infectious disease. At present, the main source of infection is patients infected with the new coronavirus; infected people without symptoms can also be a source of infection. Based on current epidemiological knowledge, the incubation period is 1 to 14 days, usually 3 to 7 days. The main symptoms include fever, fatigue and dry cough, in several cases nasal congestion, running nose, sore throat, muscle pain and diarrhea.
Principle of test:
The SARS-COV-2 Antigen Rapid Test Device is a lateral flow chromatographic immunoassay. The test strip in the cassette consists of: 1) a burgundy colored conjugate pad containing mouse anti-novel coronavirus nucleoprotein monoclonal antibody conjugated with colloidal gold and a control antibody conjugated with colloidal gold, 2) a nitrocellulose membrane strip containing one test lines (T lines) and a control line (C line). The T line is pre-coated with antibodies for the detection of novel coronavirus nucleoprotein, and the C line is pre-coated with a control line antibody.
When an adequate volume of test specimen is dispensed into the sample well of the test cassette, the specimen migrates by capillary action along the cassette. Novel coronavirus nucleoprotein, if present in the specimen, will bind to the mouse anti-novel coronavirus nucleoprotein antigen conjugates. The immunocomplex is then captured by the pre-coated mouse anti-novel coronavirus nucleoprotein monoclonal antibody, forming a burgundy colored T line, indicating an novel coronavirus positive test result and suggesting an infection with novel coronavirus.
Absence of T lines suggests a negative result. Each test contains an internal control (C line) which should exhibit a burgundy colored line of the control antibodies regardless of color development on any of the test lines. If the C line does not develop, the test result is invalid and the specimen must be retested with another device.
1 individually packed test device
1 sterile nasal swab
1 extraction solution
1 extraction tube
1 instruction for use
Warnings and precautions:
- For professional in vitro diagnostic use only.
- Do not use after the expiration date indicated on the package. Do not use the test if the foil pouch is damaged. Do not reuse tests.
- The extraction reagent solution contains a salt solution if the solution contacts the skin or eye, flush with copious amounts of water.
- Avoid cross-contamination of specimens by using a new specimen collection container for each specimen obtained.
- Read the entire procedure carefully prior to testing.
- Test results are meant to be visually determined.
- Do not eat, drink or smoke in the area where the specimens and kits are handled. Handle all specimens as if they contain infectious agents. Observe established precautions against microbiological hazards throughout the procedure and follow standard procedures for the proper disposal of specimens. Wear protective clothing such as laboratory coats, disposable gloves and eye protection when specimens are assayed.
- Do not eat, drink, chew gum, smoke or vape for at least 30 minutes before collecting saliva.
- Do not interchange or mix reagents from different lots.
- Humidity and temperature can adversely affect results.
- Used testing materials should be discarded in accordance with local regulations.
Storage and stability:
The kit should be stored at 2-30°C, test must remain in the sealed pouch until use.
Do not freeze, do not use sterile swab if packaging is broken.
Interpretation of result:
POSITIVE RESULT:
A colored band appears in the control band region (C) and another colored band appears in the T band region
NEGATIVE RESULT:
One colored band appears in the control band region (C). No band appears in the test band region (T)
INVALID RESULT:
Control band fails to appear. Results from any test which has not produced a control band at the specified reading time must be discarded. Please review the procedure and repeat with a new test. If the problem persists, discontinue using the kit immediately and contact your local distributor